Short Performances (1-2 min)
Because the natural trumpet is (at its most basic level) a signaling instrument, you can prepare your students to perform simple fanfares, calls, or announcements early on in the course. Use simple materials from Unit I of the book, or have students improvise/compose ideas for the following:
Morning-bell fanfare
Morning announcements (á la "ban horn" of the Middle Ages)
Lunch-bell fanfare
Fanfare to announce the end of school recess
10-15 Minute Performances
There are many possibilities for BfB students to perform as a part of a larger presentation featuring multiple groups in either a student assembly or public performance for family members.
View Interdisciplinary Performance suggestions here.
Have more motivated students assume a leading role by playing selected pieces in a call-and-response with the rest of the group, or by having them play more difficult pieces as solos alternating with pieces performed by the whole group.
Feature student improvisations/compositions as they relate to Ragnar's story
Create arrangements of pieces from the book adding Orff instruments, drums, recorders, etc..
See Other General Music Applications for more performance ideas
Student-composed Egyptian battle call
BfB students on stage- music from Unit II & III
15-30 Minute Performances
It is easy to create longer programs with the varied content in the curriculum. Combine ideas laid out on the interdisciplinary performances page, along with performances of pieces in collaboration with other classroom instruments for a varied and enjoyable program that can involve students on many different levels.
"Discovering Brass" students with members of the Wallace Collection at the Royal Conservatory in London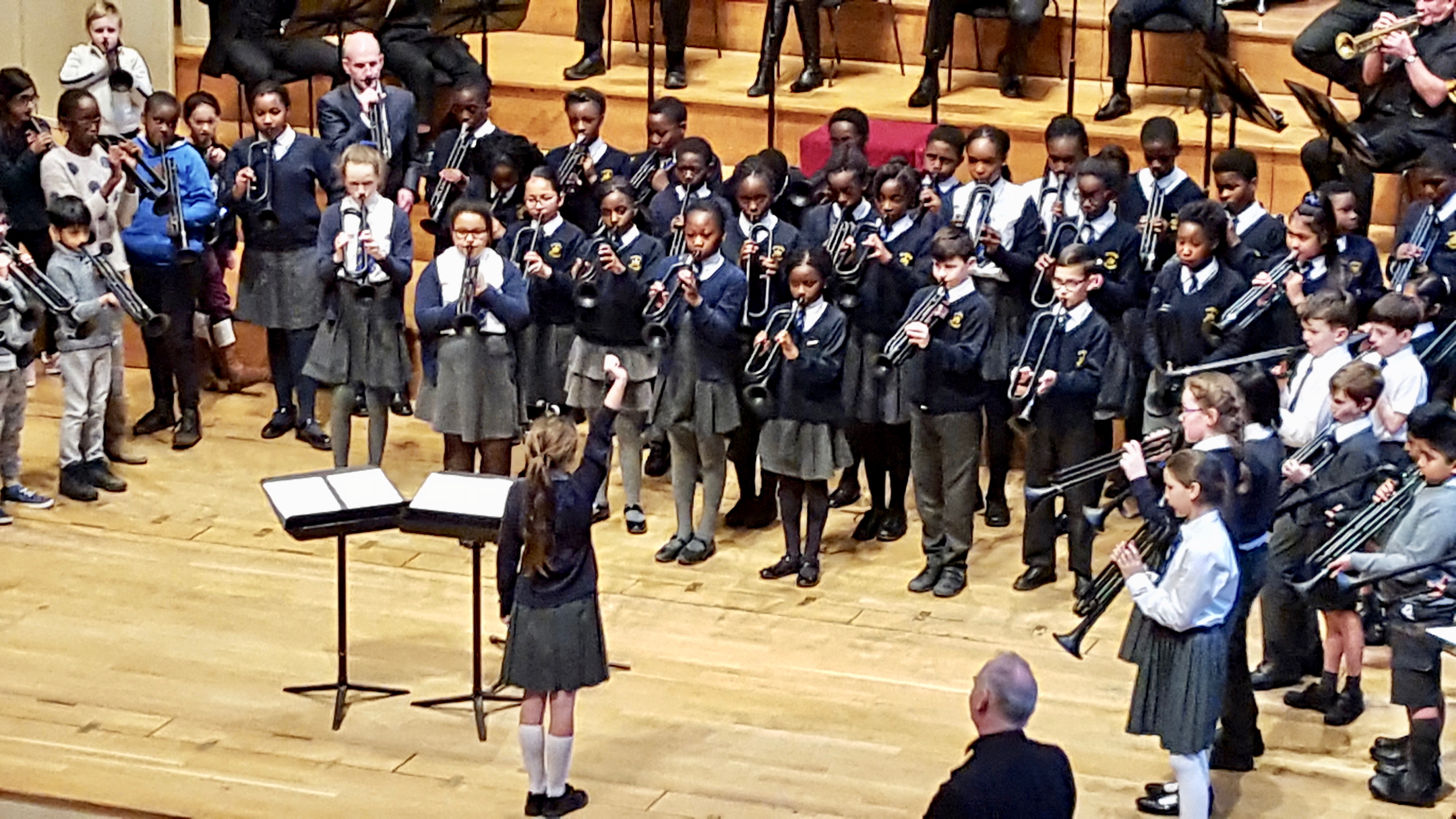 Full Programs (45min+)
Nearly every town and city has professional brass ensembles that perform educational programs in schools. Most would be delighted to collaborate with a program that sheds light on the history and evolution of brass playing. Consider collaborating with a professional brass ensemble for a short residency including an in-school assembly or public performance with your students.
Sample Residency:
Members of a professional brass ensemble come into a BfB classroom near the tail end of a course to show students how the modern brass instruments work in relation to the natural trumpet, possibly giving students opportunities to try out the trumpet, trombone, French horn, and tuba.
The ensemble performs some repertoire in the classroom to highlight the evolution of brass music on modern instruments.
The ensemble rehearses simple arrangements with students created from the student book.
The ensemble and students play for an in-school assembly or public concert.
Sample Program Outline:
BfB Students perform for 10-15minutes.
Professional ensemble comes on stage to introduce modern brass instruments and explain how they relate to the natural trumpet.
BfB students perform selected arrangements with professional brass ensemble to finish first half of program.
Second half of the program features professional brass ensemble performing repertoire that charts the evolution of music written for brass instruments to the modern day.
"Discovering Brass" students with members of the Wallace Collection