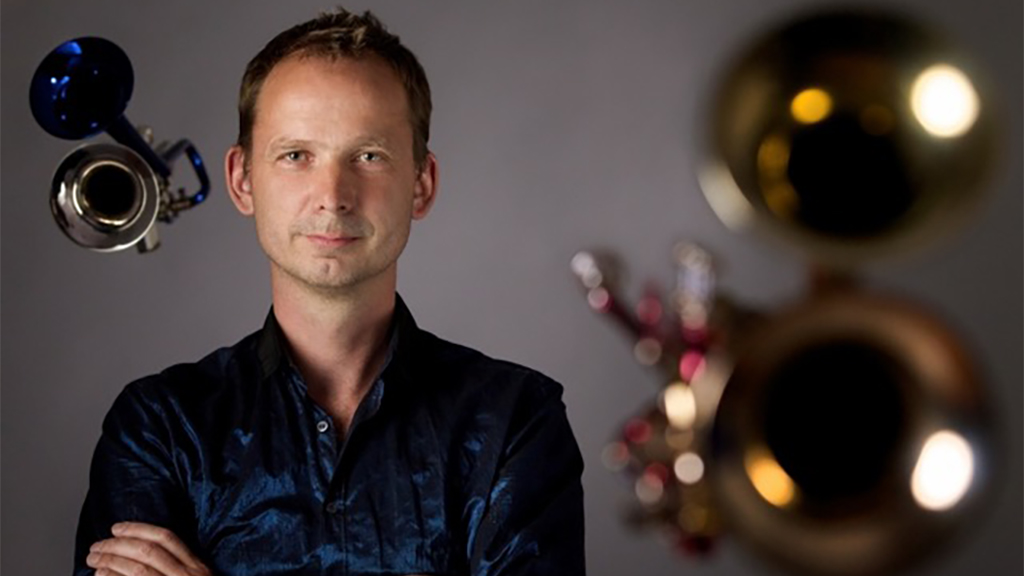 Marco Blaauw
Dutch Trumpet Soloist
Member of Ensemble Musikfabrik in Cologne, Germany
Interview With Marco Blaauw
1. Where and when were you born?
I was born in 1965 in a very small village in the countryside of the Netherlands. In the village lived about 1500 people, there was a church, a school, an old monastery, 2 cafes, 5 streets with houses and a lot of farms.
2. What is your earliest musical memory?
My earliest musical memory is the voice of my mother talking and singing. The first time listening to live music must have been in the church, hearing the organ and a church choir. The space was quite cold and I found the music a bit scary.
3. What were your favorite things to do when you were in Elementary/Primary School?
We played with friends on the street (there were hardly any cars). On Saturdays we played soccer. I loved going into the forest. We would try to build little shelters, dig a cave or sometimes make a fire (that was strictly forbidden, and it was hard to hide it from my mother because all my clothes would smell like smoke...)
In the final year of elementary school I was introduced to the trumpet. I loved the sound of the trumpet. I knew the sound from the village wind band. My brother, who is three years older, also loved the trumpet, but when he wanted to join the wind band they gave him a baritone (euphonium). I was lucky, when I joined they let me play the trumpet!
4. When did you decide to play a music instrument and why?
As a young child I would often run around the house singing loud or screaming, just because I loved doing it. Grown ups around me often told me to tone it down! It seemed they didn't like my singing and screaming so much, so I stopped doing it.
When I started playing the trumpet I discovered a whole new sound world. After a while of intense practicing, I was allowed to join the wind band. People seemed to appreciate the sounds on the trumpet. It made me feel strong and confident: The trumpet gave me a new voice, so I could sing and scream again, just because I loved doing it!
5. What kinds of music did you enjoy listening to as a child? Any specific musicians or concerts that you remember?
When I was a small child I already loved to listen to music. Usually music from the radio. I remember my uncle visiting us and leaving behind a huge pile of records. I listened to them all! I loved listening to pop and rock music. When I started earning some money doing small jobs, I began buying records and cassette tapes; music by Pink Floyd, King Crimson, Jimmy Hendrix, later also classical music like Ravel, Rimsky Korsakov, and Stravinsky. I also found records with music for trumpet played by Maurice Andre and Wynton Marsalis.
6. Why did you decide to become a musician?
The trumpet opened up a new world for me. First I joined the local wind band, than I started playing music in churches in neighboring villages. After that, I joined a big band in a small town 45 minutes away by car. When I was 16, I joined a real funk band, we played concerts in big towns throughout the Netherlands. As a young student I played in youth orchestras. I remember my first tour to Scotland, it was absolutely amazing. Then I joined the European Youth Orchestra and started traveling all over Europe and even to far away countries like India. That was when I decided that I didn't want these adventures to stop anymore: I wanted to make music, play concerts and travel.
7. What are your favorite things about being a musician and playing brass instruments?
Playing a brass instrument keeps my body and my brain fresh and fit. Playing music makes me happy. I love my collection of different trumpets. Through practicing, exploring, and experimenting, I keep discovering new sounds. When I like a new sound I start using it in the music I play.
I feel very lucky and am very grateful to be a trumpet player.
8. What are your other interests?
Being home where it is always warm and cozy, being with my family, walking my dog, painting, reading, composing, and discovering new things on and with the trumpet.
9. What do you hope students will get out of learning with Brass for Beginners?
The magic of producing a great sound. The feeling of achievement and success when you can play an exercise perfectly after hours of practicing. The immense joy of playing with other people.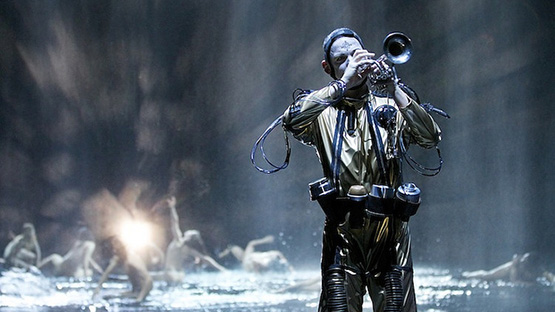 Marco Playing a piece with dancers called "Licht Bilder"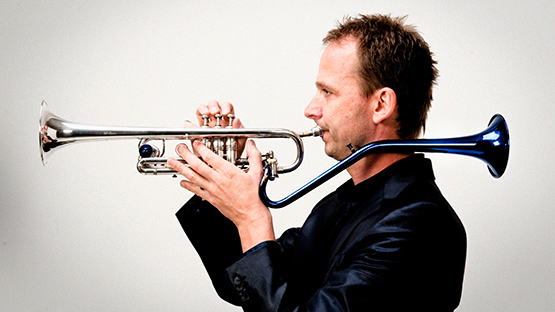 Marco Playing his Double-bell Trumpet
Marco's Dog Abbo and the Double-bell Trumpet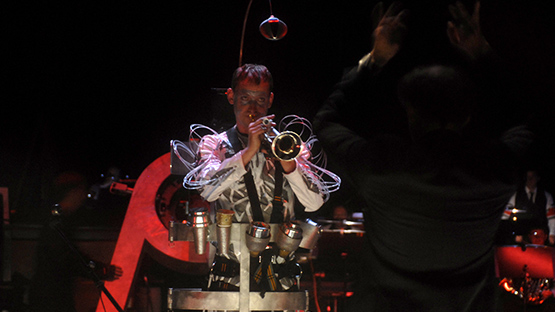 Marco playing a piece called "Michaels Reise" by K. Stockhausen
Biography
Marco Blaauw has an international career as a soloist, and is a member of Ensemble Musikfabrik in Cologne, Germany. Blaauw works in close collaboration with both the established and younger composers of our time. Many works have been especially written for Blaauw, including compositions by Peter Eötvös, Georg Friedrich Haas, Wolfgang Rihm, Rebecca Saunders and John Zorn.
Blaauw worked intensely with Karlheinz Stockhausen. Flying over the orchestra in a gimbaled cage, he played the leading role in Stockhausen's MICHAELs REISE. He presented the premier of HARMONIES for trumpet for the BBC Proms at the Royal Albert Hall and has premiered many solo roles from the opera cycle LICHT.
He became founder of an ensemble of 8 trumpets and produces concerts throughout Europe. In 2015, he started working with La Monte Young and the Theatre of Eternal Music Brass Ensemble on the melodic version of "The Second Dream of the High Tension Line Stepdown Transformer."
Marco Blaauw's work is widely documented through radio, television and CD recordings. He started a series of solo CD's in 2005, the sixth of which, Angels, was awarded the "Preis der Deutschen Schallplattenkritik 2014."
Blaauw has been intensely active as a teacher, starting with the Stockhausen Courses, International Darmstadt Summer Courses and Brass Academy, Luzern University of Applied Sciences and Arts, Center for Advanced Musical Studies at Chosen Vale, international master classes and most recently the Stockhausen master's program at the Royal Conservatory in The Hague.
As a composer, Blaauw was awarded the 2016 Karl Sczuka Prize (support grant) for his first radio play, "deathangel".