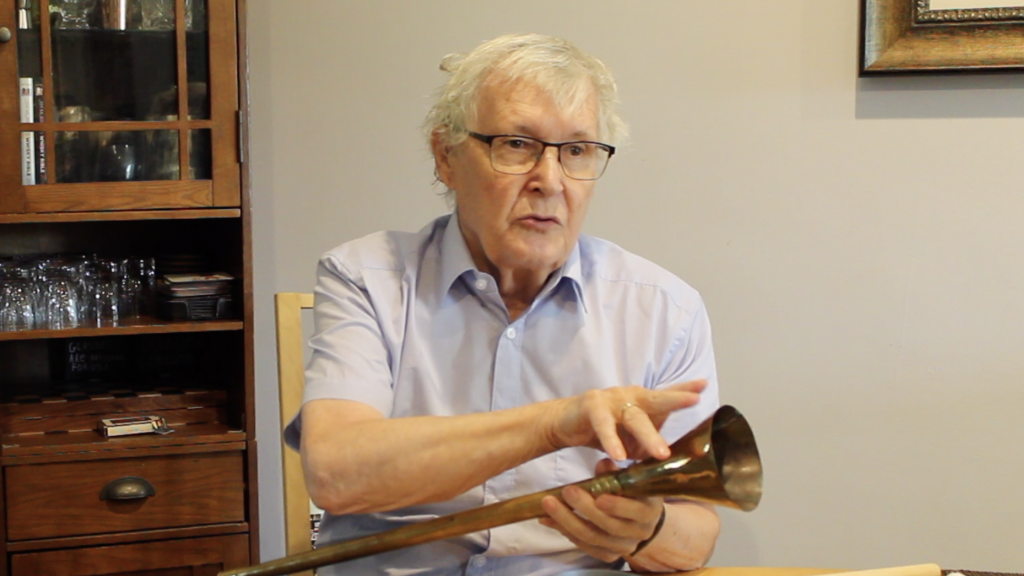 Dr. Peter Holmes
Dept. of Design, Engineering and Mathematics,
Middlesex University (London, UK)
Head Researcher, European Music Archeology Project (EMAP)
Meet Dr. Holmes
Dr. Holmes is one of the world's leading experts on ancient lip-blown instruments. For over fifty years, he has been scouring the globe, analyzing instruments and fragments (pieces) of instruments. He searches for clues as to how they were made, how they were played, and what they meant to the people at the time. This field of study is called "music archeology," and Peter is one of its pioneers.
BFB authors had the pleasure of meeting Peter at the European Music Archeology Project (EMAP) conference in 2015 where he presented and discussed many replicas (copies) of instruments that he had made. Be sure to scroll to the bottom of the page to see a video of Gabriele Cassone playing several of Peter's instruments.
At the end of the conference, we had the chance to sit down with Peter to review the first edition of the Brass for Beginners method book. He had carefully marked up a copy with his red pen and took a lot of time to share his knowledge with us. When we were finished, to our shock and delight, he gave us his "Tut trumpet," a replica he made of one of the silver trumpet found in the tomb of Tutankhamen. Needless to say, we were humbled by this gift and have been able to put it to good use, inspiring the imagination of BfB students ever since. Click below to learn more about the "Tut Trumpets."
We are truly indebted to scholars like Dr. Holmes – without his painstaking work in studying instruments from the ancient world, and his craftsmanship in producing playable replicas to help bring them to life for all to enjoy, our work in creating the Brass for Beginners curriculum simply wouldn't be possible. Thank you, Peter!
Bio
Peter Holmes is a music archaeologist who trained initially as an engineer, serving a five-year engineering apprenticeship at Rolls Royce Ltd, later becoming a Chartered Mechanical Engineer. He went on to get a degree in geophysics before embarking upon a Ph.D. in music archaeology in the 1970s.
Being an active trumpet player and an engineer, he started early on to modify and then to make brass (lip-reed) musical instruments and the Ph.D. brought together his interests in the field of brass instruments, focusing upon instruments prior to 500 CE. It also combined his interest in making things with the application of experimental archaeological techniques to aid in the understanding of the acoustic world of instruments whose only footprint has been physical remains or iconographic representation.
In order to understand the inter-relationship between the design and manufacturing technologies of the late Bronze Age cast instruments, it was necessary to carry out casting experiments to investigate the role of the clay bodies used to make molds and cores and the techniques used to support cores. This called for several hundred casting experiments to test theories and to make instruments.
Since the completion of his Ph.D., Peter has made dozens of replicas of ancient instruments, using authentic materials to facilitate the study of the manufacturing techniques used to make these in the past and to investigate their acoustic qualities. These instruments have come from among other places, New Kingdom Egypt (trumpets), Irish Bronze Age (Wicklow pipes, horns, crotals), Baltic area bronze age (lurs), Irish Iron Age (trumpets), British iron age (Tattershall Ferry Carnyx), Etruscan (salpinx, litui, cornua, sistra and other ideophones), Greek (salpinges), Roman (tubae), etc.
He is currently working on European Iron Age brass (lip reed) instruments with a view to recreating the sound word presented by the group of instruments known to have existed during that period.